The day is here ladies and gentlemen! The launch of the sequel to my first novel Aristeia: Revolutionary Right is here. Aristeia: A Little Rebellion is available on Amazon and other online outlets now.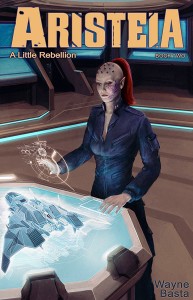 It took longer for Amazon to process and publish the book than expected. So the prelaunch blitz did not occur yesterday as expected. But that means today you can still get the ebook version for only $0.99. The price will be changed to its regular price of $4.99 tomorrow, so don't wait.
Now that the book is launched, the blog will return to some more regularly scheduled ramblings.  There's still the blog tour going on for the next few weeks, and the conclusion to the contest. But my excessive pimpage will start to die down and I can return you to random musings of inconsequential things.