Today I'm guest hosting Gayle Ramage as she is touring to promote her latest work The Whispering Tombs. Be sure to check out the best for links to where you can buy this book and others. Now without further ado….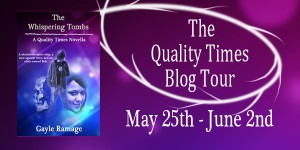 First of all, I'd like to thank Wayne for hosting me today on his blog, as part of my Quality Times Blog Tour. Many thanks, Wayne!
Although I'm a writer of science fiction and fantasy, I'm also an avid viewer of the genre and most of my favourite television programmes are in the sci-fi/fantasy genre. Today, I'd like to talk a little about some of the shows that inspired me a little to write the Quality Times series.
DOCTOR WHO
Well, those who know me well, know I'm a big fan of the Gallifreyan Timelord and his blue box. I only started to properly watch it when the show returned in 2005 (though I have vague recollections of watching the McCoy era before tea-time when I was still at primary school). I just love the premise of the show – a 'man' travelling around time and space in a space ship that's bigger on the inside, with (usually) human companions.
Everyone has a favourite Doctor and I suppose mine would have to be the current incumbent, the Eleventh Doctor (played by Matt Smith). I just think he seems to merge all the Doctors who have gone before, while adding his own quirks and traits to the role.
I should add that I'm a massive fan of the Big Finish Doctor Who audio output. Anyone who enjoys listening to stories could do worse than check out their website.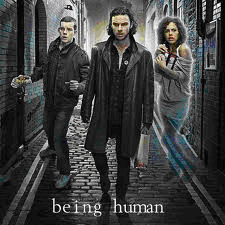 BEING HUMAN
Yes, another BBC drama but this one is also fantastic! Originally a premise about three dysfunctional people living together (a sex addict, an agrophobic, and someone with anger issues), the creator Toby Whithouse decided to go all paranormal and make it about a vampire, a ghost and a werewolf living in a house in Bristol, England. Don't worry, there's no sparkly vamps here! Mitchell (the vampire) acts more like an ex-alcoholic who's always facing temptation, not least by leader, Herrick (a tremendous performance by Jason Watkins). Alas, the original cast have now moved onto pastures new but, never fear, the show is in safe hands with new additions, Hal (vampire Elder who's OCD), Tom (werewolf who is normally sweet and kind, but deadly with a stake), and new girl Alex (who has just literally become a ghost in the last episode…. and she's Scottish!). Just a wonderful series which balances the humour and the horror superbly. I'm not going to mention the US version. Once seen, now forgotten (but that's just my opinion!)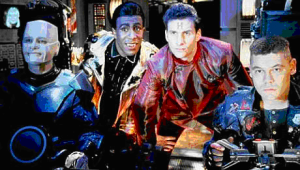 RED DWARF
What do you get when you have the last human alive, a house-work loving android, a hologramic dead smeghead, and a humanoid creature descended from cats, and shove them in a large mining ship? Red Dwarf, that's what!
It's possibly the world's first (and best!) sci-fi sitcom and takes an affectionate piss-take out of the science fiction genre. It began in the late 1980s and lasted around a decade before the show finished. But it's back this year, after a three-episode test run a couple of years ago.
Fans of the show include Patrick 'Captain Picard' Stewart, and Madonna (allegedly), amongst others. Plus, it's had some pretty impressive guest stars, including Craig Ferguson (now a successful chat show host in the US), Jenny Agutter, Timothy Spall, Mark Williams, to name just a few.
And, in the end, who couldn't love a show which gave the world such fantastic insult-names such as "gimboid" and "smeghead."?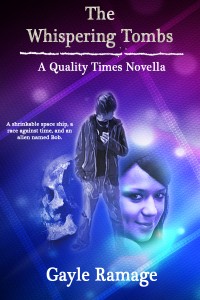 Meet Quality Times, just your average 21st century woman who happens to own a shrinkable time machine. Along on her intergalactic adventures is Tim, a self-confessed sci-fi geek who takes everything in his stride.
In 'The Whispering Tombs', Quality and Tim are residing at the luxurious Baala Haven Resort, on an unpronounceable planet, when they're invited on a quest to find ancient hidden treasure by a wealthy alien archaeologist. Reaching the caves of Azrokaran, however, loyalties are tested to the very limits as those within the group reveal their true colours.
A light-hearted mix of science fiction, adventure and humour.
About Gayle
Gayle Ramage is a writer, living in the Scottish lowlands. She would love to grow her own TARDIS if only to go back in time to find out if her ancestors were as mad as she is.
You can find more about Gayle:
To get your own copy of The Whispering Tombs: