I was contacted recently by a fellow author by the name of Monica  Leonelle. She had a book coming out soon and was attempting to organize a Blog Tour to promote it. Always happy to help fellow authors, I decided to join the tour and pimp out the book some here on the blog.
Socialpunk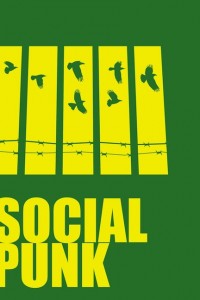 Ima would give anything to escape The Dome and learn what's beyond its barriers, but the Chicago government has kept all its citizens on lockdown ever since the Scorched Years left most of the world a desert wasteland. When a mysterious group of hooded figures enters the city unexpectedly, Ima uncovers a plot to destroy The Dome and is given the choice between escaping to a new, dangerous city or staying behind and fighting a battle she can never win.
As part of the tour, I did a short interview with Monica about her experience with social marketing, the book, some silly questions to get to know the geeky side of her.
What is the most important thing for modern authors to do to have effective marketing for their books?
Writers should inject their marketing directly into their manuscripts. Writers often think of marketing as this separate thing from writing, but it's not at all. 80-90% of books are sold through word-of-mouth and most of the marketability of a book is right there in the manuscript. So even if you are going the traditional route, if you are serious about getting published you should hire an editor to go through your book and see how marketable it is. Traditional publishers are looking for marketable books. It's a business and they need to make money.

Then, you launch your book by asking people to read it. If it's any good you'll start getting word-of-mouth for your book. My goal is to give away one thousand copies of the book during its launch. I'm maybe a fifth of the way there so far? It's a lot of work, more than most people realize. I write about this stuff constantly on my Prose on Fire newsletter, so if these concepts interest you, you can check it out here: proseonfire.com/free-writer-toolkit
Who is your favorite character in Socialpunk?
I would have to say Ima, as she's the main character and the book is told entirely from her point of view. What I love about her is how much she changes from the beginning of the book to the end. She feels very guilty and is constantly struggling with right vs. wrong. She's probably one of my favorite characters out of all the ones I've written.
If you could have any superpower what would you choose?
I'd love to be able to pause or slow time. I feel like there's never enough!
What motivated you to start writing?
I started a Gen Y blog in 2007 called Twenty Set. It actually gained quite a bit of steam early on, but eventually I moved away from Gen Y topics. The reason I started that blog, though, is because I couldn't clear my mind! I literally just needed to get things out of my system. So I wrote that blog 4-5 times a week for about six months until my ideas stop churning so quickly. My love for writing as an adult grew out of that experience.